USSOCCER.COM | USSOCCER.COM | USSOCCER.COM | USSOCCER.COM |
Back StorY
US Soccer approached AKQA Portland to re-establish their brand system and rebuild their website from the ground up. This redesign was at the forefront of the Women's National Team's trip to the
2019 Women's World Cup
in Paris, making their fans feel more connected to their nation's team on and off the pitch.
Objectives
Create a new brand identity for US Soccer focused around the "The Shield"

Create a new website experience for US Soccer from the ground up with a mobile first focus

Create new tool set for digital marketing and experiences for US Soccer as they prepared to go into 2019 Women's World Cup
---
---
Disrupting The Status Quo


Through market research, our team discovered that there was a lack of representation for the U.S. Women's Nation Team (USWNT), despite them being the most interesting aspect of U.S. Soccer's brand.
These women are strong, full of personality, and have rich backstories, yet very few media outlets were covering their stories in an enriching way. There is a lack of representation, despite the increasing interest in the team and the athletes themselves. So to allow this project to set itself apart from the status quo of sports design, sports marketing, and other global futbol establishments we used a "lead with her" mentality.

We built the core brand language around the values the USWNT represents and paired it with a narrative element to allow U.S. Soccer to tell the stories other outlets such as ESPN, CBS, Bleacher Report were missing to help create a deeper connection to their fan base.


---
Being The 'Glue'


I was hired on as an Interaction Designer for the website redesign to be the middle person between the UX, UI, QA, Dev., and leadership teams. My role focused on keeping up the line of communication and ensuring the project stayed on track. I was in charge of all design to dev. documentation, and focused on finding ways to evolve the design system's characteristics and functionality.

The website was created with a module-based system, this allowed for flexibility, scalability as well as future proofing the website for clients. In my role, I maintained a 70+ module (and 11 page templates) library to ensure each module was pixel perfect, using universal styles that were responsively formatted. Whenever there was a project-wide update it was my responsibility to ensure the updates were applied throughout the entire project no matter what stage of the redesign each team was at.


The challenge of this role was not only delivering pixel perfect documentation, but also staying adaptable as the direction of the project changed and the scope increased. Throughout the project I also helped design several tertiary pages with the UI team, worked with the QA team on prioritizing UI fixes during bug scrubs, and help write and present JIRA tickets for features to our back-end development team in Denmark. Near the end of the project, I led workshops with our clients that highlighted the new CMS's functionality, and taught their authoring team how to construct new pages.
---
Highlights


During this project the team at AKQA was able to push forward and develop three new innovate features for the US Soccer brand.
Insider program
U.S. Soccer Insiders
is the enhanced loyalty program for USWNT and USMNT fans. This new program allows fans to unlock perks like access to presale tickets, full access to the mobile app, and early invites to fan events. This program also allows for US Soccer to provide personalized content and communications to their users so that they're getting the most relevant experience across digital and physical touchpoints with US Soccer.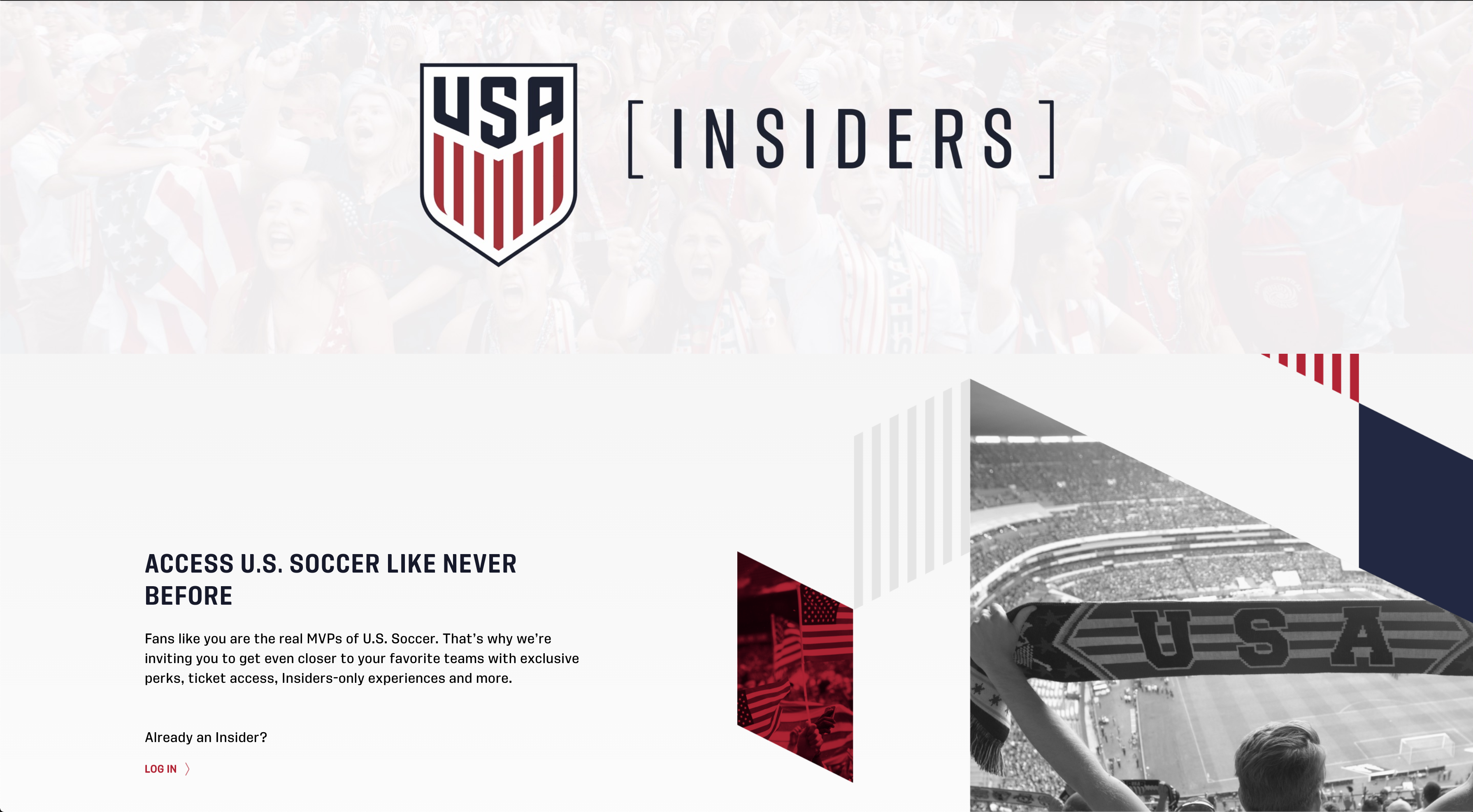 Stats Integration & Live Match Engine
Further integrating player stats, and adding the ability to track matches live was crucial to making this website feel like the centralized hub for everything US Soccer. The new live match feature brought a new sense of energy to the site since it always felt directly connected to what was happening on the pitch. This feature took months to make, and was tested several times before launch day while watching WNT games with a few dozen boxes of pizza and team gatherings.
Editorialized Player's Lives On
& Off The Pitch
Considering the teams play a limited number of matches in a given year, the creative team at AKQA recognized that we could not rely on stats, highlights, and gameplay as our only source of content. With the main goal of expanding the connection and experience to the nation's teams in mind, AKQA tapped into US Soccer's resource access to the players to create unique editorialized content focused on the player's lives on and off the pitch.
---