TRADER JOE'S APP CONCEPT | TRADER JOE'S APP CONCEPT | TRADER JOE'S APP CONCEPT | TRADER JOE'S APP CONCEPT |
Product design, Personal Project


---

Back Story

Trader Joe's is on a mission to bring affordable and unique cuisine from around the world to the local communities while presenting themselves as a fun, friendly, and dependable neighborhood market.

During a week-long challenge, I took a deep dive into exploring Trader Joe's brand and customer experience to see how I could create a new era of consumer engagement while maintaining the genuine Trader Joe's experience.

Objectives
Create a streamlined and personalized shopping experience for Trader Joe's customers fitting for today's challenges
Create a unique and engaging digital presence for the brand
Find new ways for Trader Joe's customer's to connect with the brand and voice their opinions about products while also establishing a sense of community within a digital space
---
Defining The Features
Over the last decade, commerce brands have had an overwhelming amount of advancements in technologies and features thanks to trust in A.I. technology and personalization. The biggest challenge that has come about from these new features is figuring out which ones best aligns with the brand's value and their customer's needs. For this challenge, I was given a list of 20 possible features that could be incorporated into this new experience. While there are many combinations these features could coexist in, it was important to put the features into the perspective of the brand values.
---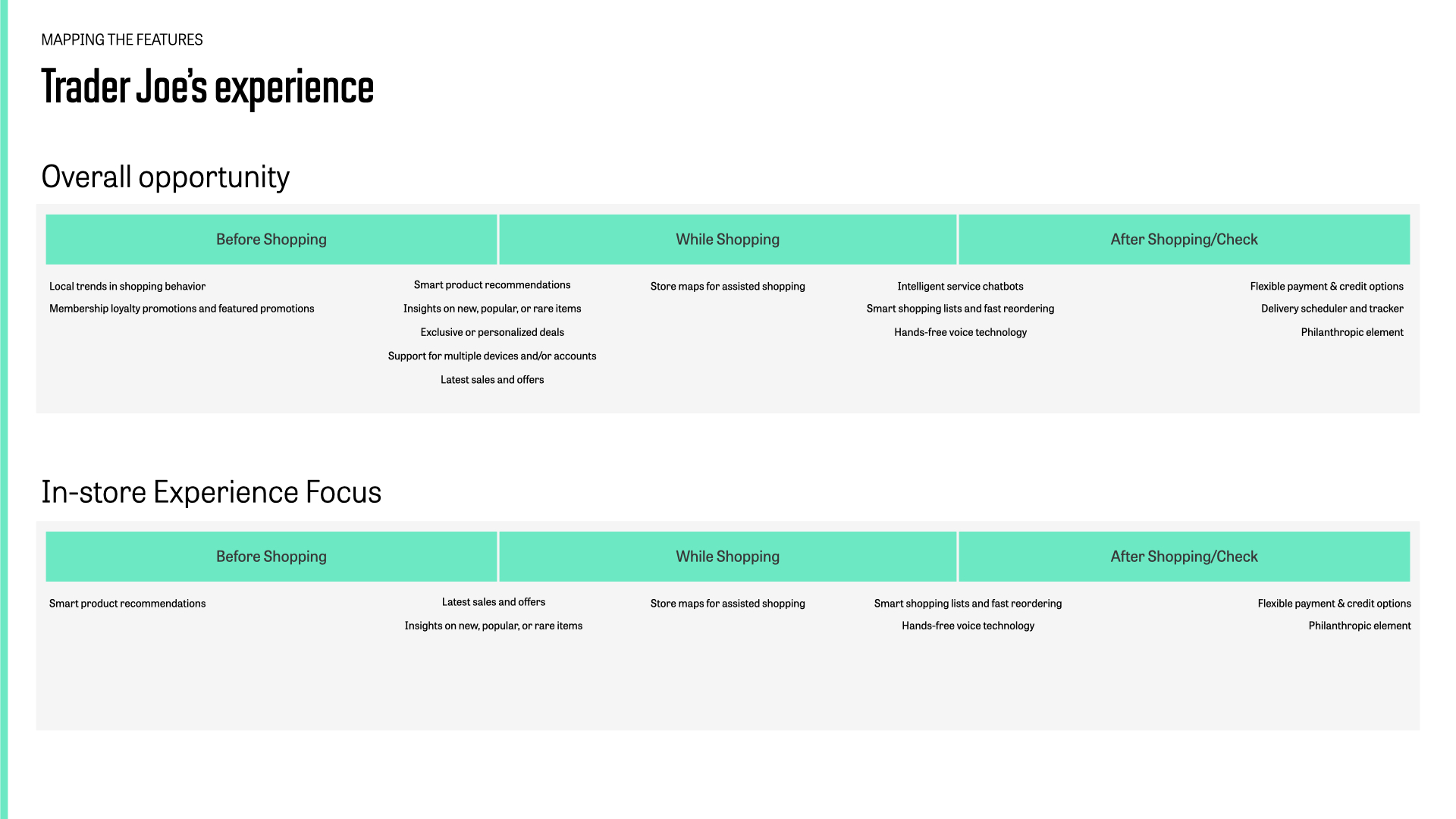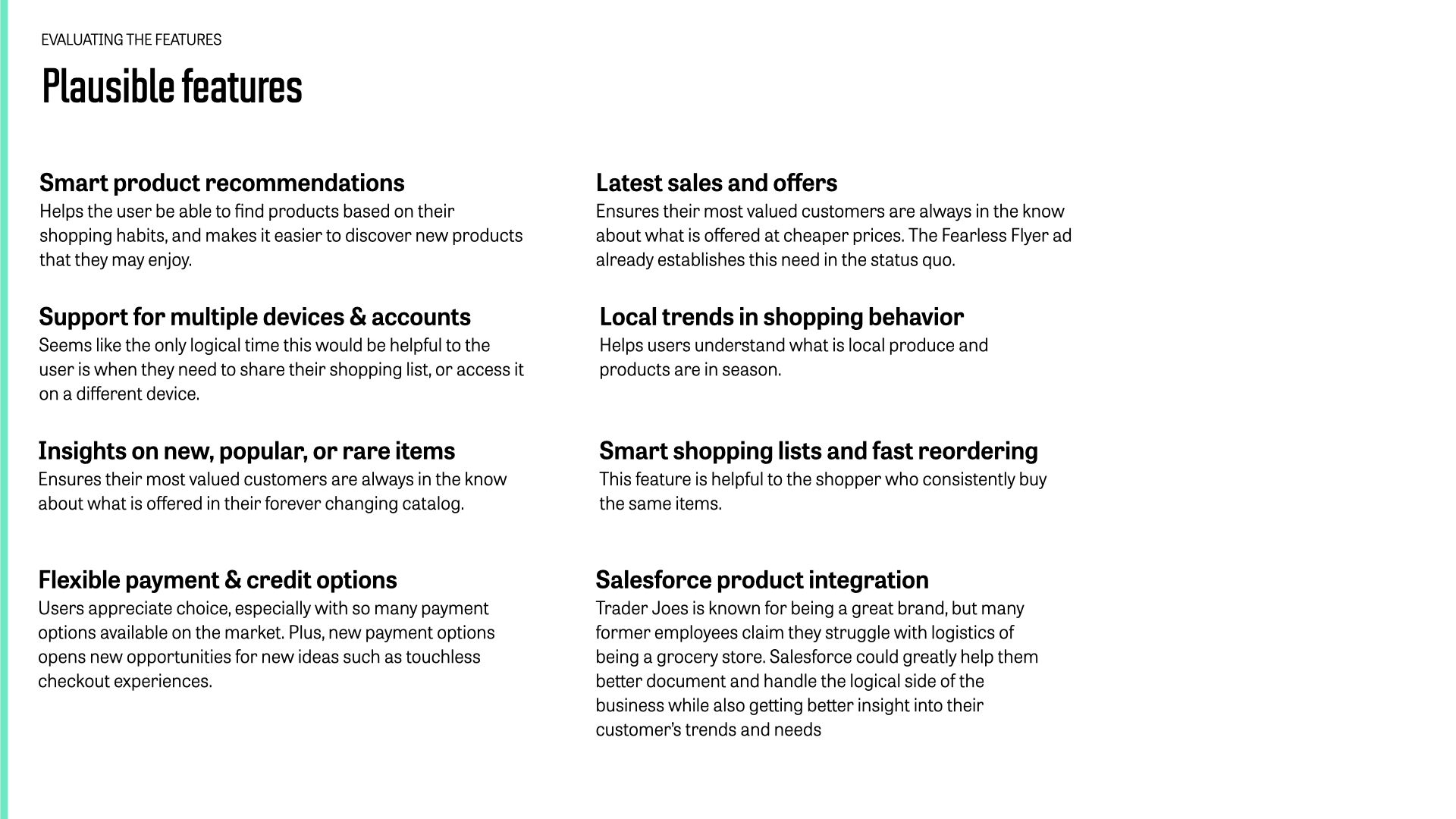 This exercise ultimately helped me filter out what made the most sense for Trader Joe's unique experience: Smart product recommendations, latest sales and offers, Insights on new, popular, or rare items, store maps for assistive shopping, smart shopping list(s), flexible payment options, and added touchless checkout. These features seem the most logical based on the goal of redistributing the traffic in-stores and increase the efficiency of crew members to serve more customers considering the brand experience is rooted in customer & crew member interaction.


---
Identifying The User & Their Journey

Trader Joe's has a diverse customer segment, so I narrowed the focus to two types of tech-savvy shoppers: Active list maker, and spontaneous shopper.

The active list maker persona focuses more on being well organized while focusing on exactly what they need and are efficient with their trips to the stores. They know where their "regular" items are and may have low intent for the discovery of new items.

The spontaneous shopper personas are much more likely to come into the store possibly looking for a limited number of items or simply glancing through the grocery aisle with minimal intent on buying anything specific but it open to new ideas and products.



Following the high-level exploration, I dove into the details of the flow, addressing different segments of the app experience such as the app discovery, onboarding, viewing products, creating and using a list, how to discover recipes, and touchless checkout.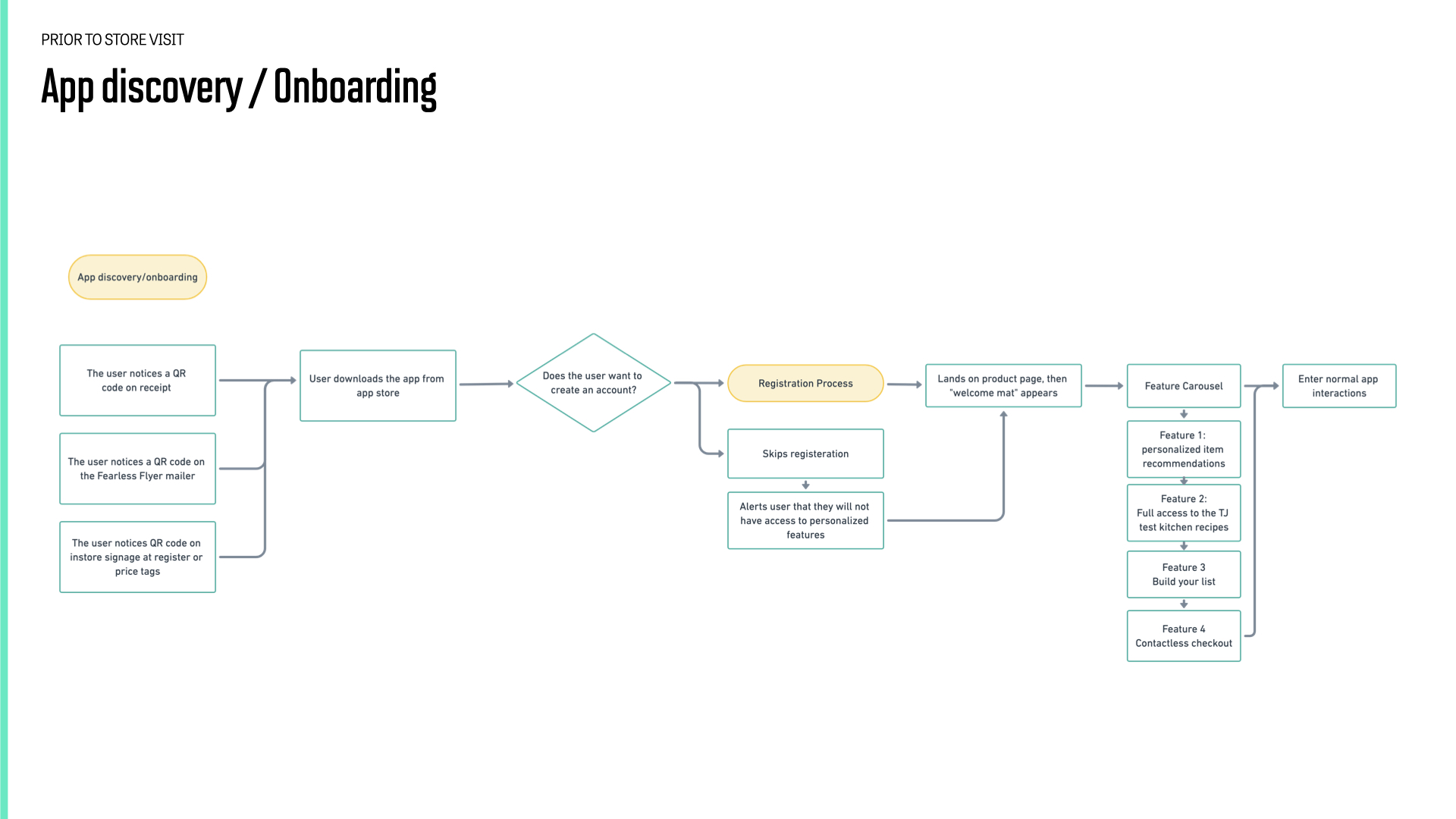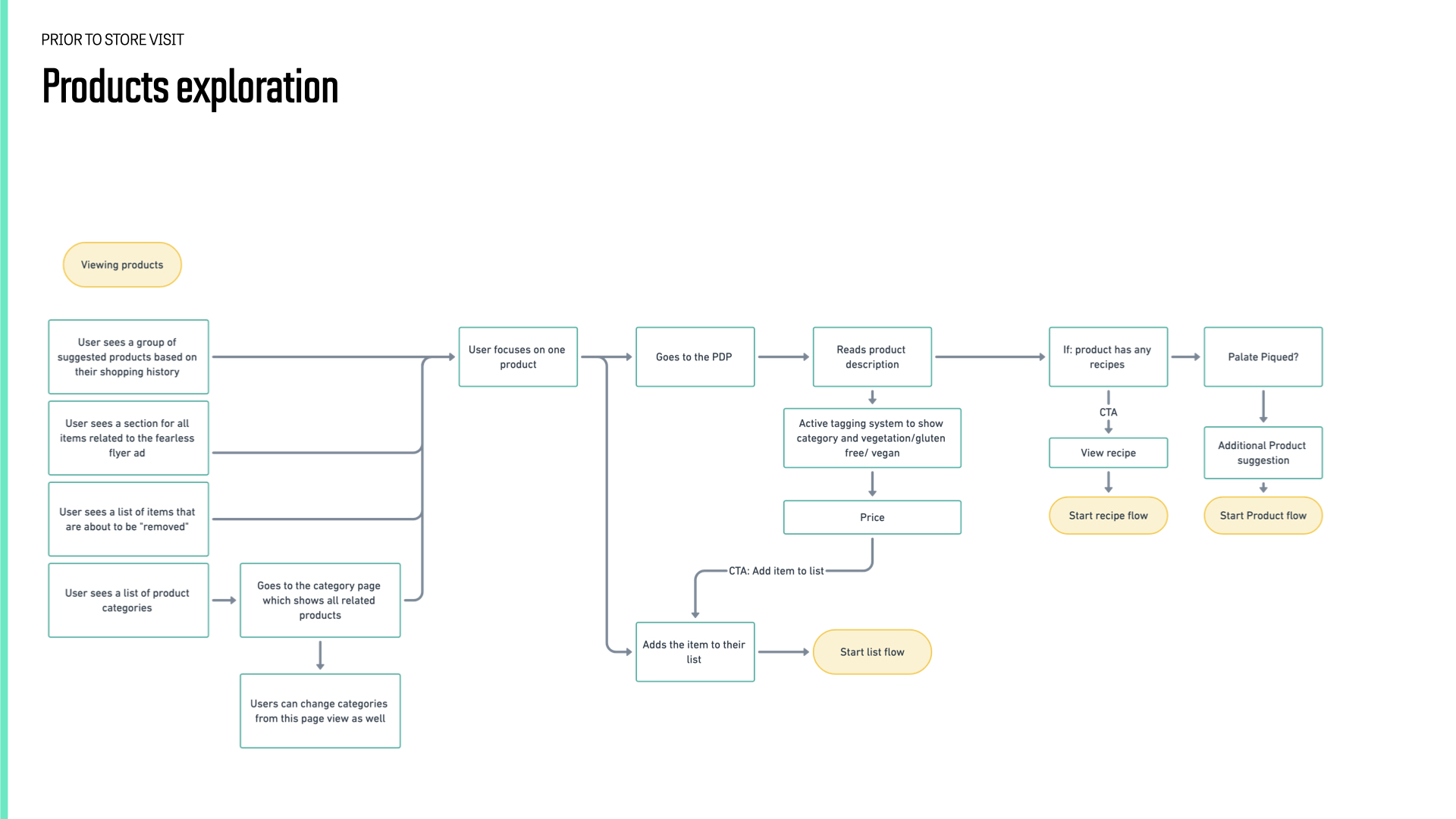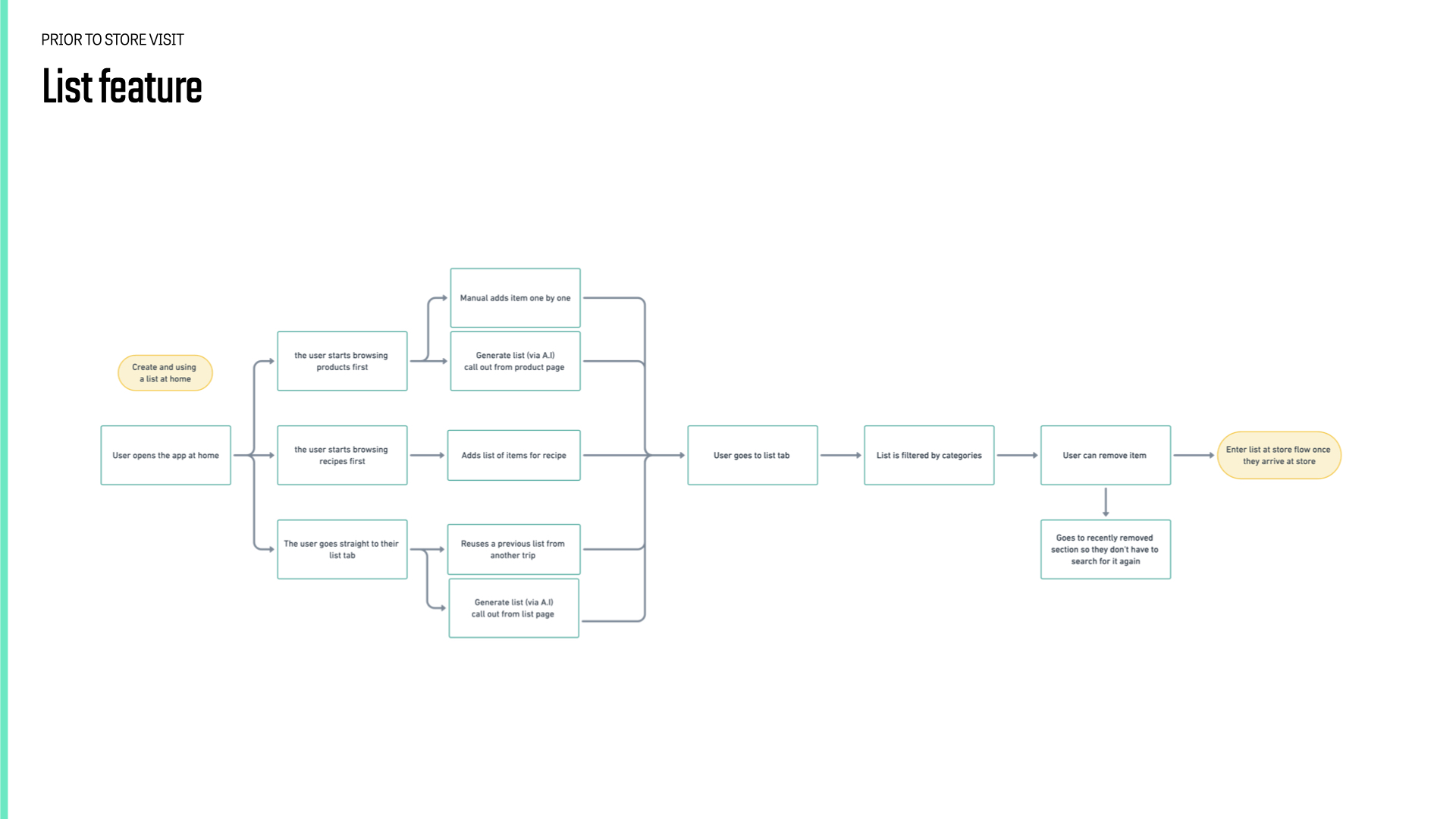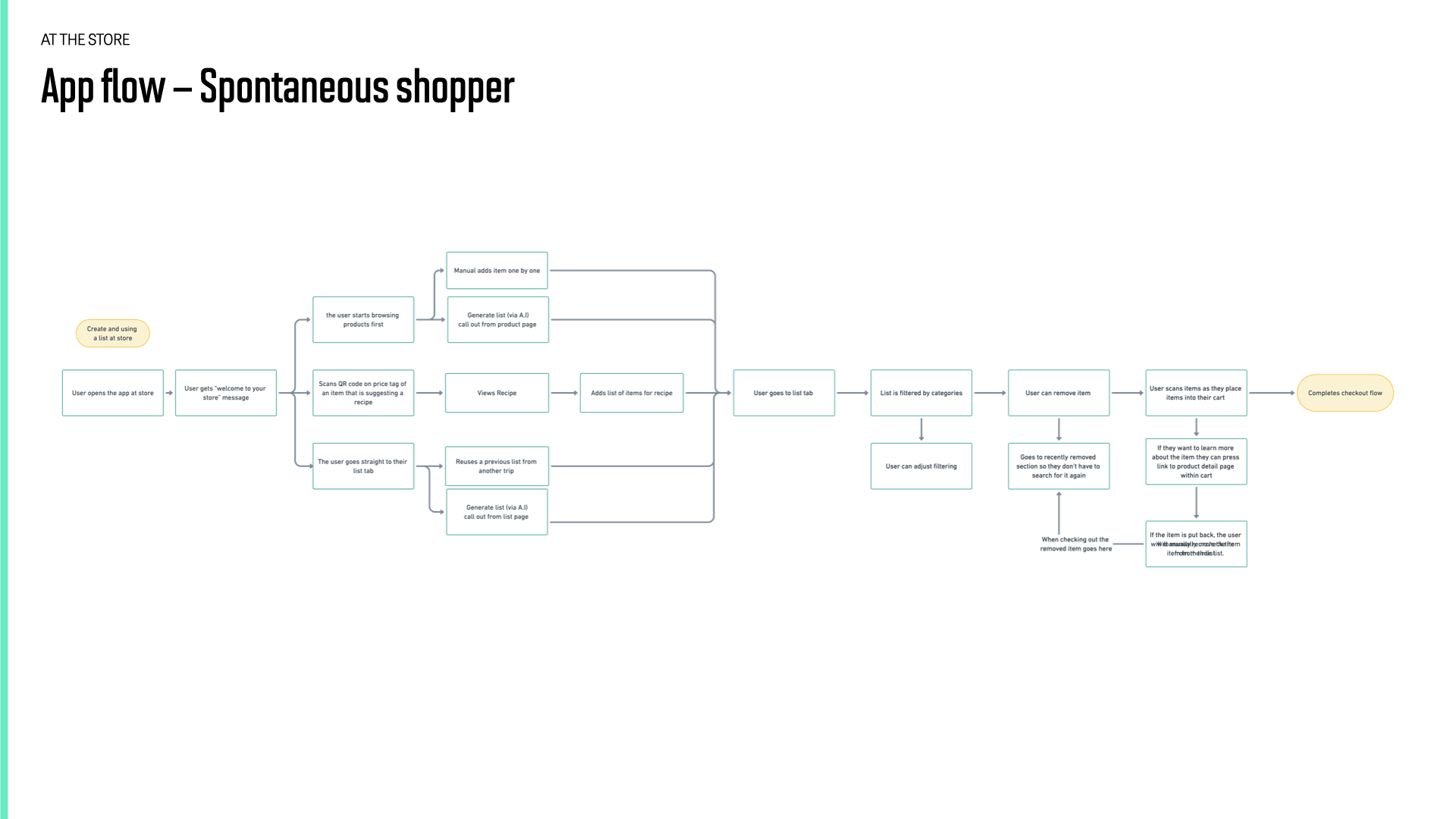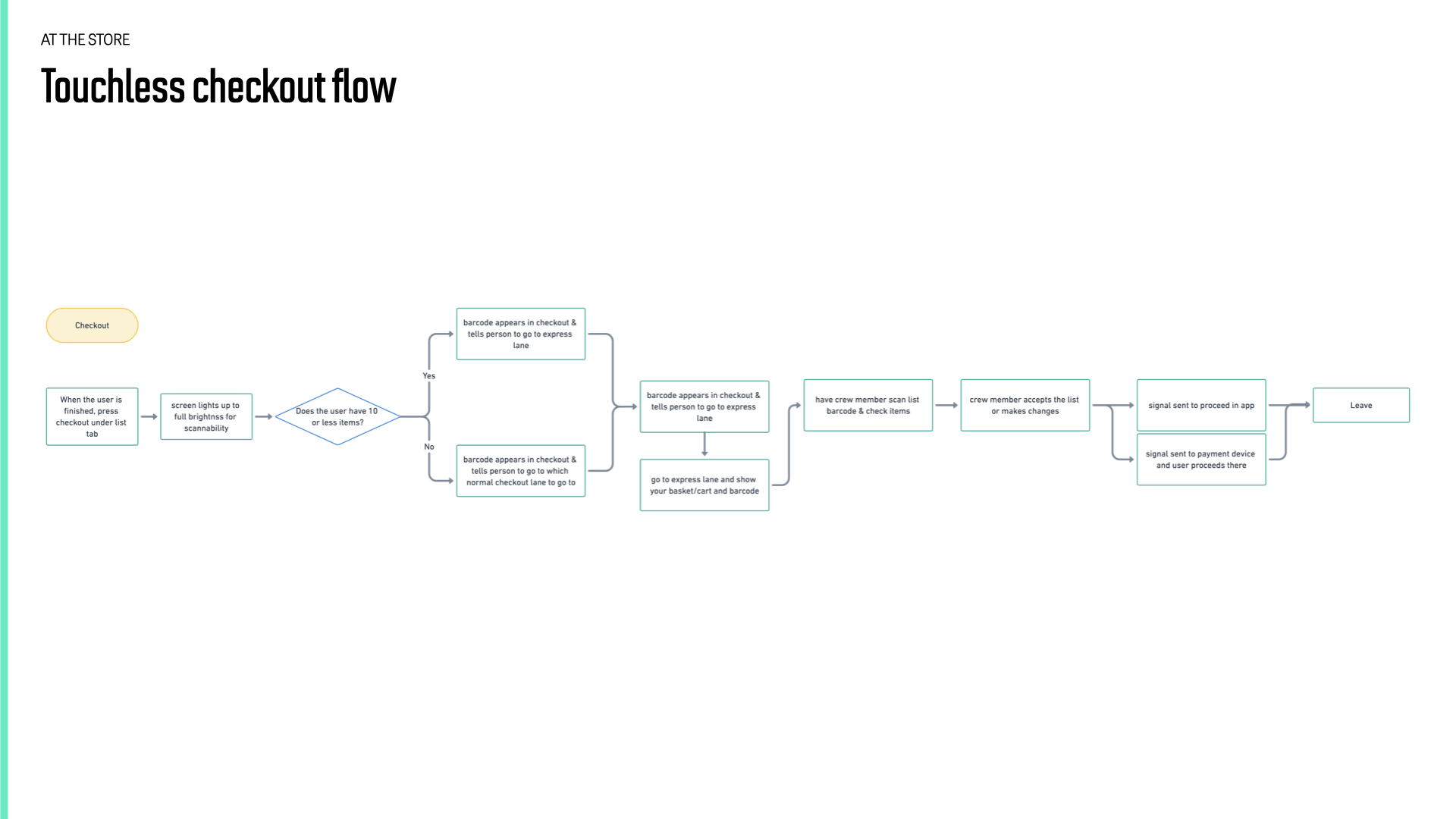 Wireframing


While wireframing, I took some time to explore different visual hierarchies for products and recipes, various forms of navigation, different ways to format the list experience, and how the app would adjust once a user enters the store.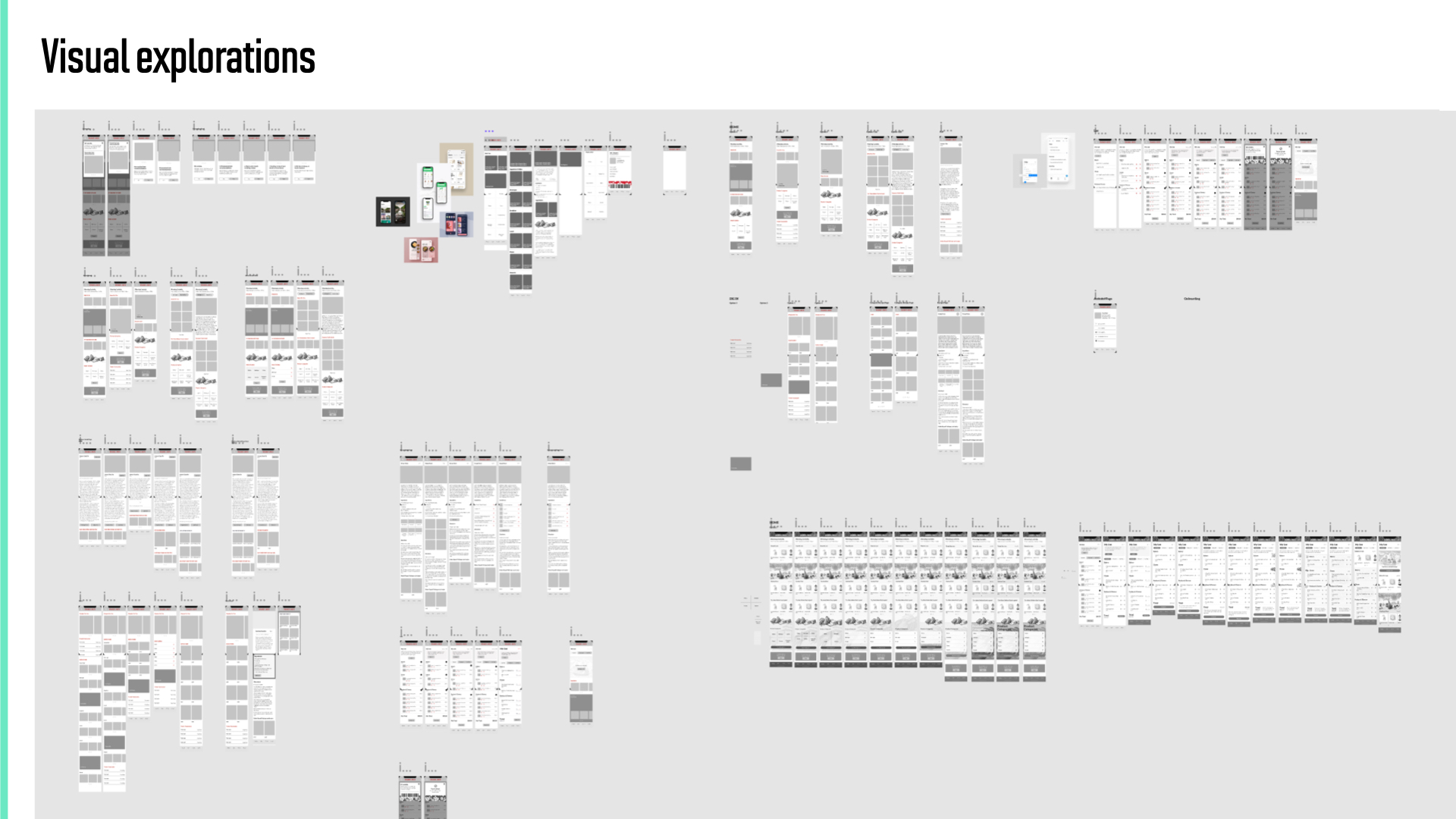 ---
The Experience
active list maker
The active list maker browses around the app at home, exploring different product categories, curating their preferences, and making lists at home for their future shopping trip.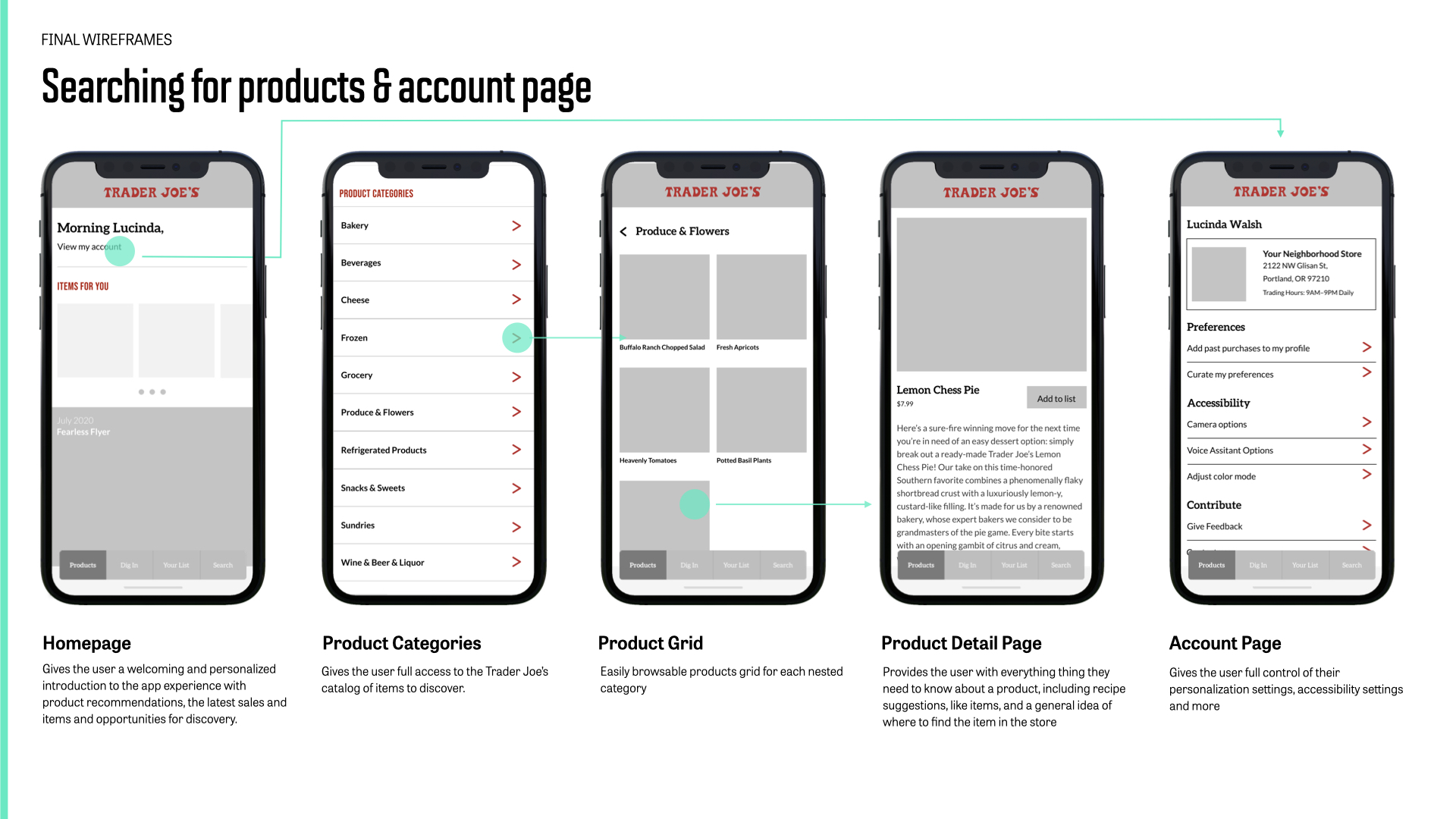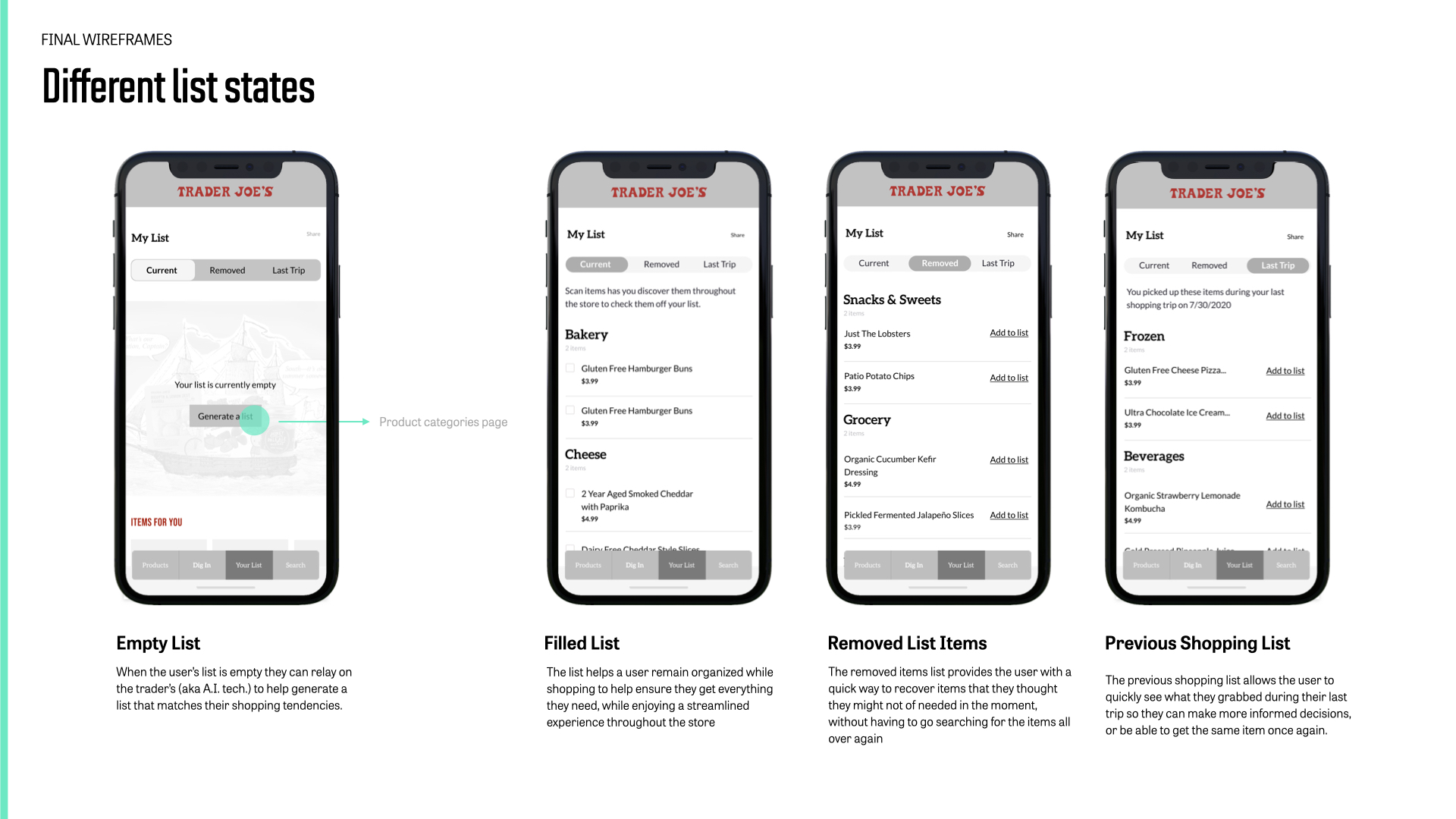 One of the most unique elements of Trader Joe's experience that they focus on making shopping fun and full of life. They put a ton of effort into establishing a local farmer's market vibe through the use of non-traditional corporate design language. This has helped set them apart amongst the competition so I made it a priority to incorporate their fun playful language, vintage textured illustrations, and bright bold colors into the aesthetics for the UI elements of the app.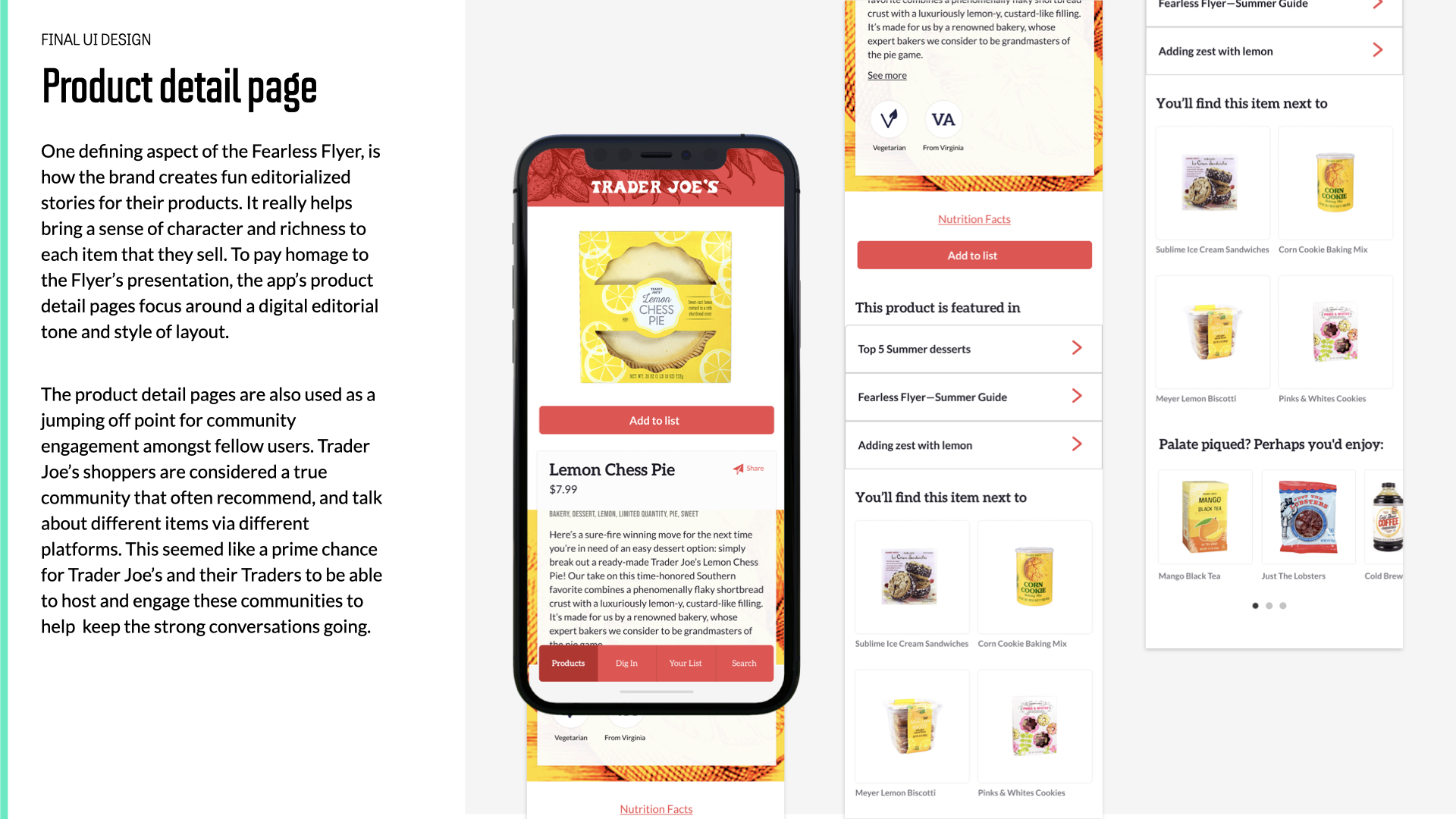 Spontaneous shopper
The spontaneous shopper has Trader Joe's app but would rather explore the items in store. They get a notification from the app upon arrival and then proceed with the touches checkout experience using their device.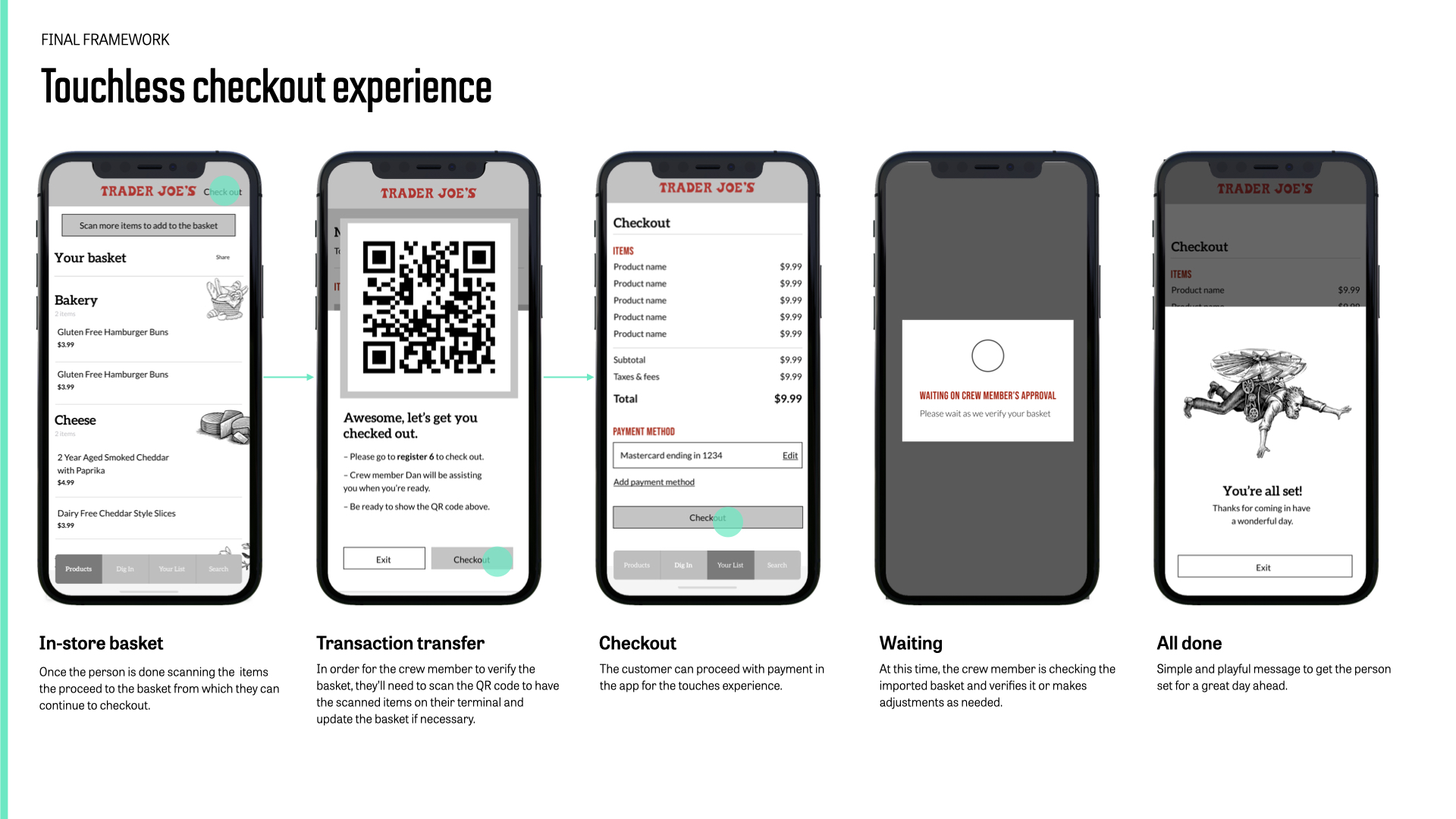 The goal of new self-checkout experience is to help combat the long lines that Trader Joe's is known for—especially at their popular locations such as NYC. This experience allows for a great sense of efficiency by eliminating the need to unpack and repack a customer's cart at the register. Also, it provides a touchless checkout experience, which helps avoid any risks associated with COVID-19.