Portland Cider Co.
In 2017, Portland Cider Company began to leap a small and local start-up brand to being a full-fledged regional cider brand for the Northwest. Their focus had shifted from growing the brand to truly owning the brand and trying to expand their image for the future growth of the company.

Being that Portland Cider makes some of my favorite ciders, the brand shift was noticeable and exciting. To further the excitement, I decided to take on the task of reimaging their old and out-of-touch original site, into something fresh and new that helped better represent the brand as a whole moving forward.
ROLE
Web Designer and Developer
For this original concept, I took known brand elements and concepts (found through brand observations) and applied them in a new modern concept to further strengthen Portland Cider Company's digital image and presence.
Create a new website concept that helps Portland Cider Company establish their brand better with more modern, personalization and character as the brand becomes bigger and grows into the future.

It was noticeable that there was a major disconnect between the brand experience that consumer was experiencing in retail spaces (packaging, taproom experience, tastings, etc.) to their online presence. Portland Cider's website and social media channels felt distant from the rest of the brand's overall language.
To further understand the brand and get a sense of the overall story, I broke down each of their current pages one at a time. I focused on observing what was working, what wasn't working, and how the new branding would affect the overall look and feel of the site.

Overall, the site was extremely text heavy, and utilized way too many colors. It made the site feel more like a digital book instead of an enjoyable website. To help rectify this, I decided to focus on the 'show, don't tell' method of storytelling. The brand prided themselves on homegrown and local ingredients, but yet never showed that element off. This lead me to focus on a more photogenic approach.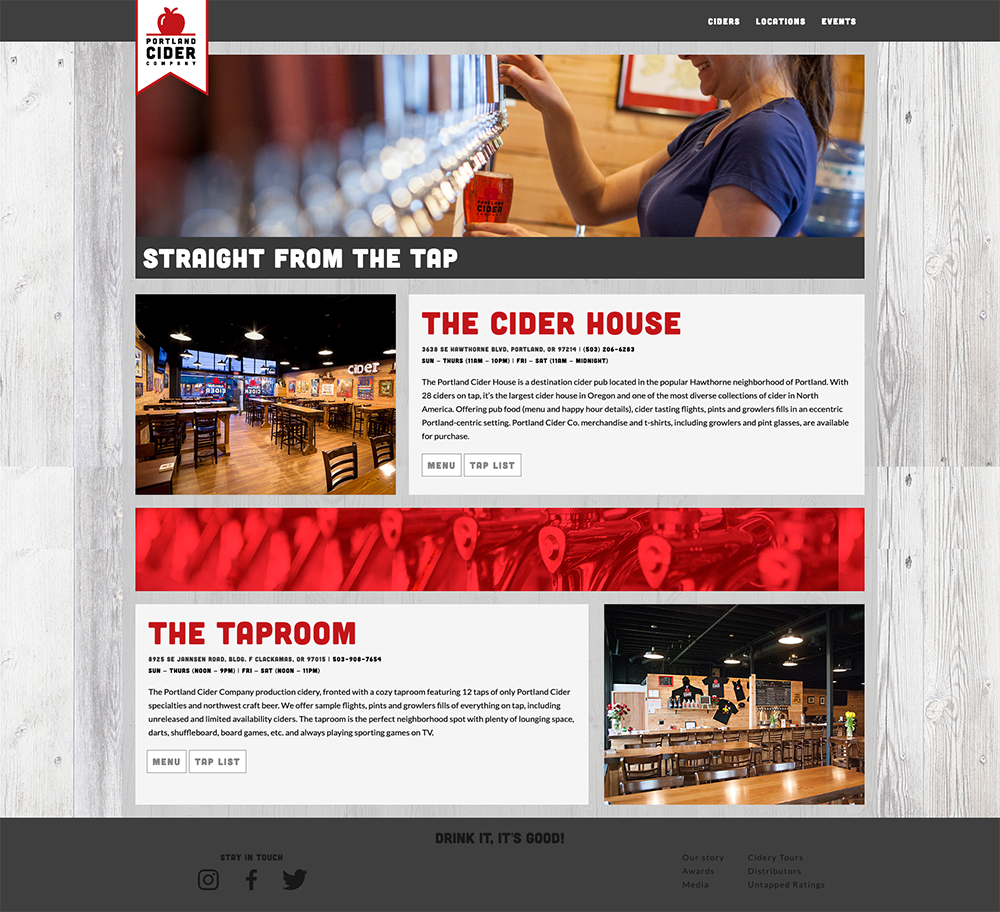 The inclusion of photography helped develop a nice sense of color and visually brought the flavors of each cider to life. To help make the copy feel more approachable, I used the hide and reveal method for the product description to ensure the viewer never got too overwhelmed while viewing.