Nike Digital | Nike Digital | Nike Digital | Nike Digital |
Social Media, Motion Design, UX Design
Back Story
This body of work focuses on my partnership(s) with the leading sports brand in the world, named after the goddess of victory—Nike. I've had multiple encounters with the brand throughout my career, but most recently I worked on campus as a digital designer, focused on developing communication assets for Nike and Nike Training Club app(s), and Nike.com content for the Nike Global Training brand.

Objectives
Develop world-class content that aligns with Nike brand guidelines through art direction and digital design within sketch and photoshop

Elevating traditionally static content with motion via After Effects

Develop marketing and editorial content for the release of NTC Premium and various product releases.
Create elevated and engaging user experiences via Nike's social media channels

A small sample of the marketing campign for Nike's pay-per-month service workout service—NTC Premium. The goal of the campiagn was introduce the new program, share stories of aspiring athletes, and focused on highlighting the program's six trainers through the use of editorial driven personal stories presented through social channels, Nike app, NTC app, and emails
Explore NTC
"Just In" is a series of product drops for Nike Basketball's featured sneaker lines. Each 'feed card' was specifically designed to help elvate and continue the narrative of the shoes. These 'feed card' would then lead the user to a shopping experience for the paritcular shoe or colorway.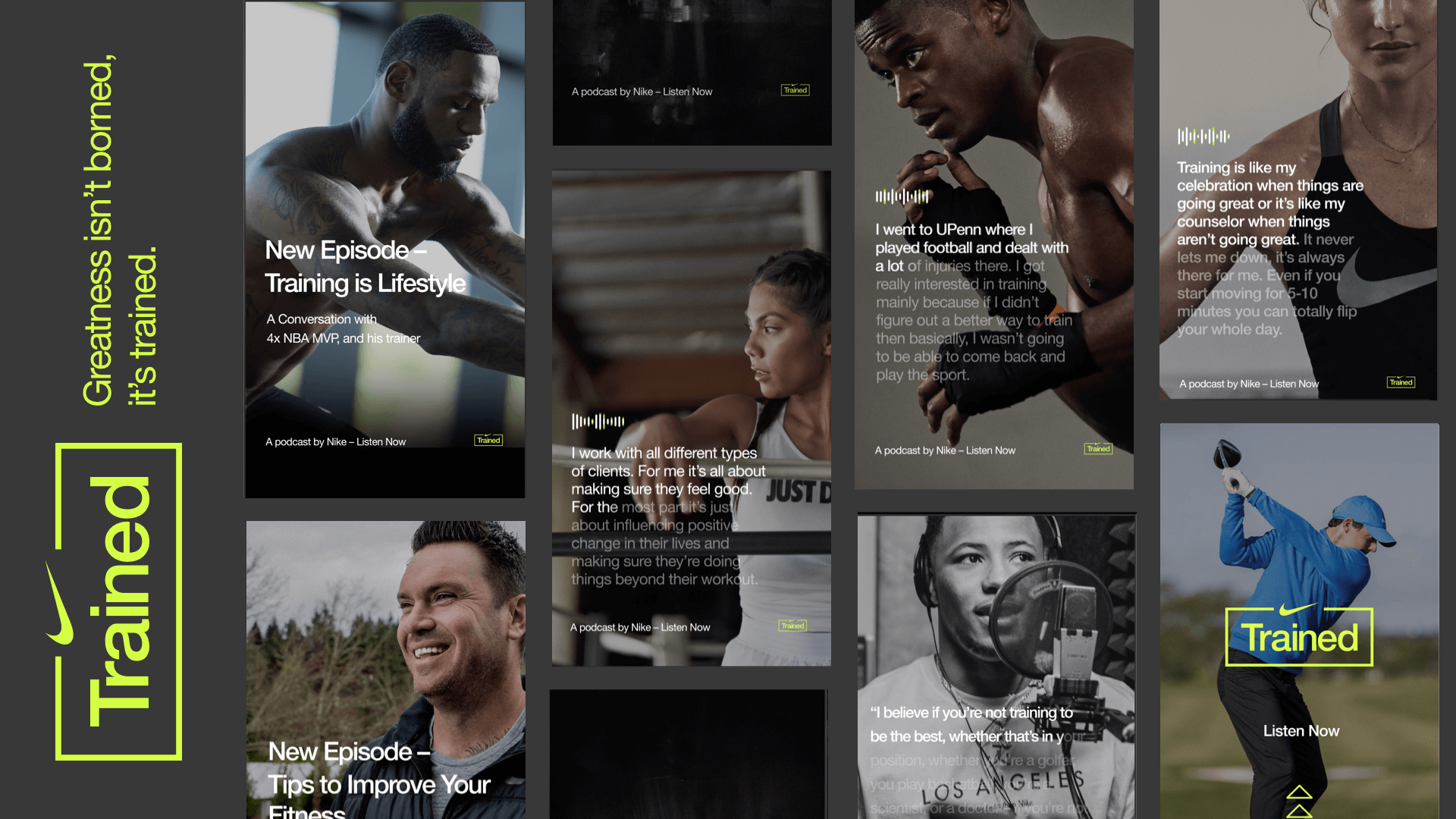 'Trained' is a semi-weekly released podcast series by Nike Training that focuses on the 'five facets of fitness' with Director of Fitness Ryan Flaherty and such stars as LeBron James and Saquon Barkley. For this seires, I helped redesign the entire social media experience with a new bold full bleed photography look and new template design that incorprated motion to it's fullest potential.
Explore 'Trained'
Nike Vapor ONE (2016)
During my time at Flightdeck, I worked on the design of the packaging of the Vapor One Football, the official football of the NCAA. This design is still used and inspires other iterations that are sold on store shelves today.
Read more about the project.
Rio Olympics (2016)
This project was the stepping stone into the brand for me. I learned the general brand language and how to push it far enough while retaining the Nike brand style.